Counselling for Children
Children may face situations or emotions which are too big for them to handle and need help managing them.
Are you worried about a child who: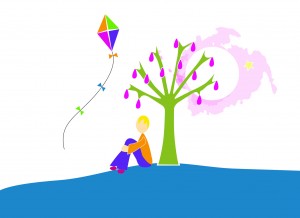 is being bullied
is finding it difficult to concentrate
is frightened, cross or upset without knowing why
is finding it difficult fitting into a new family
is moving to a new home or school
has lost or is losing someone special
is struggling to deal with parental separation or divorce
is ill
has suffered abuse
doesn't seem to feel good about him or herself
If children can't reflect on their feelings, they may act them out in ways that are hurtful to themselves or others, or withdraw into a world of their own . Counselling and psychotherapy can help them find another option – the chance to reflect, explore, work through and learn to express these feelings safely.
I use play, storytelling and art including puppets, paint, sandtray, clay, sound and movement to help children tell their stories.
Counselling for Families
Sometimes the stresses and pressures of everyday life mean communication and relationships in the family break down. Integrative therapy can help  the family find its way back to relating to each other in supportive and healthy ways.
Counselling for Teenagers
As life opens out, young people look towards their peers as a reference point and seek to establish a place and identity for themselves in the world. The transition into adulthood may be straight forward, however, this time of potential excitement and exploration can be accompanied by symptoms of un-ease. Counselling and Psychotherapy can help young people struggling with:
Finding their identity
Connecting to their sexuality and sexual identity
Teenage pregnancy
Eating disorders
Self harm
Obsessive or compulsive behaviours
Depression
Bullying, withdrawal, relationships with peers
Low self esteem
Conflicts at home
Managing aggression and anger
Being young carers
Coming to terms with abuse and neglect
Poor performance or attendance at school
Exam stress
---
Find out more about Catherine
Contact me by email
or telephone 07783608395
   Catherine Bishop,  Counselling and Psychotherapy
in Brighton and Hove, East Sussex